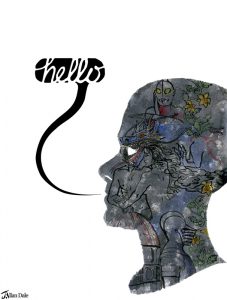 Hello! I'm James, an illustrator an based in the West Midlands of England. I earned first class honours from the illustration BA (Hons.) course at Plymouth University in 2016.
I come to illustration from a background in writing and theatre; the process of setting a stage and telling a story through images feels vital and new to me every time. I like to collaborate with the organic variation of materials, watching silhouettes emerge and ink bleed into white paper.
I love engaging with communities and institutions through collaboration and shared experiences, and I have experience developing arts workshops for children, young people and adults. My image-making inspirations include calligraphy, the fantastic, found or implied narratives and experimental formats.
Contact me at j.allan.dale@gmail.com